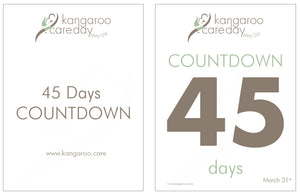 Countdown to Kangaroo Care Awareness Day
45-days countdown to the Kangaroo Care Awareness Day (May 15).

FREE DOWNLOAD for parents, not-for-profit organizations, and healthcare organizations celebrating Kangaroo Care Day. 
For-profit entities, please get in touch with us at info@kangaroo.care to request explicit permission to use. 
Includes: PDF,  PNG, Black and white, and color.
By requesting and downloading any free electronic file, you agree to the following:
No modifications to the file are permitted. If you suggest/need any revisions/edits, please get in touch with info@kangaroo.care
You receive non-exclusive permission to use it for any non-commercial purpose.
When used in digital format, the kangaroo care day logo can only be linked to www.kangaroo.care website.
You agree not to charge, rent, sell, or receive compensation for items with Kangaroo Care Day's logo or any resources provided on its website.
You agree not to use the logo printed, digital, or in any way for commercial projects.
Don't forget to share photos, texts, and videos tagging #kangaroocare #kangaroocareday and contact 

info@kangaroo.care
© 2023, Kangaroo.Care. All Rights Reserved.