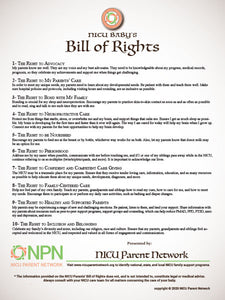 NICU Baby Bill of Rights by NICU PARENT NETWORK (NPN) (Free download)
NICU Baby's Bill of Rights (by NICU Parent Network)
We believe in family-integrated care that is developmentally appropriate and supportive.
We believe that all NICU parents and babies deserve access to the individualized support and resources they need to thrive well beyond leaving the hospital.
And we believe that NICU parents are the most important part of their baby's care team.
To support these beliefs, NPN has developed the NICU Baby's Bill of Rights that seeks to inform and empower clinicians to encourage and facilitate bonding between NICU parents and their babies.

INCLUDES: ENGLISH | ESPAÑOL | ITALIANO | FRANÇAIS

Ready to print and share.