BELIEVE IN THE POWER OF YOUR SENSES™
#kangaroocare #kangaroocareday #thesnuggleisreal #skintoskincare
Don't miss!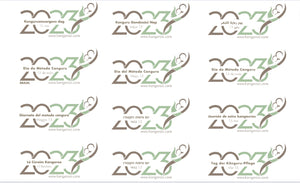 2023 Kangaroo Care Day Logo - Download free!
Select your language --- No matter how you celebrate this Kangaroo Care Day on or around May 15, use this logo to encourage families, coaches, and everyone on the team.
Download it, print it, and display it everywhere!
Available in English, Spanish, Portuguese, French, Hebrew, Italian, Hungarian, Arabic, German, Irish, Swedish, Norwegian, Ukrainian, Welsh, Greek. Contact us for other languages. We will provide it (free).
DOWNLOAD FREE HERE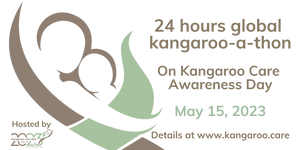 The results are here - and info about the Kangaroo Care APP!
45 Teams, 9 Countries, 1,006 babies - click below for the results!
Also, we are looking for teams to BETA TEST the Kangaroo Care App called The Zaky, developed by Nurtured by Design and funded by the Gates Foundation.
Teams keep track of the kangaroo care and kangaroo-a-thons in REAL TIME!
READ MORE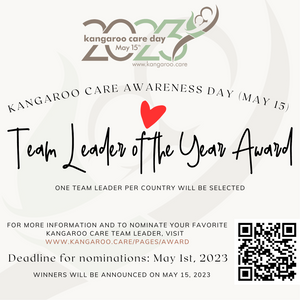 Nominations for the 2023 Kangaroo Care Team Leader of the Year Award (deadline is May 1st, 2023)
Join us in recognizing the TEAM LEADERS that have made a difference by leading the kangaroo care day celebrations in their community in every corner of the world. A Team Leader is a person that champions Kangaroo Care at their location. Anyone may nominate a Team Leader, and self-nominations are welcomed.
CLICK HERE TO NOMINATE OR MORE INFO
What is happening around the world
---
Why cultivate a nurturing and loving connection with Kangaroo Care?
Check out Mary Coughlin's video annotation for the article "Twenty-year follow-up of kangaroo mother care versus traditional care"
Watch video
Raising our voice - Kangaroo Care Day (May 15) in the news
During COVID-19, hold on to love and 40 years of scientific evidence.
Every moment skin to skin is spent bonding, healing, growing, protecting, and comforting. #kangaroocare #thesnuggleisreal
Nothing replaces the love, nutrition, warmth, and protection that parents provide to their babies.
Click here to read about Kangaroo Care during COVID-19, the latest recommendations at birth, post partum, and NICU/PICU.
Thanks to all the professionals and organizations that continue providing information about Kangaroo Care / Skin to Skin contact during COVID-19. Send info, suggestions, questions, share stories to info@kangaroo.care
Read Here
Yes! you, me, all of us!
Join the movement and advocate for the right of every newborn (preemie, full term, healthy or sick) to be held skin-to-skin and celebrate Kangaroo Care Day on May 15th!  
Here you will find ideas, resources, and information that will help you celebrate in your part of the world:
Ideas to Celebrate, Engage, and Share Kangaroo Care
RESOURCES (download free and print)
---