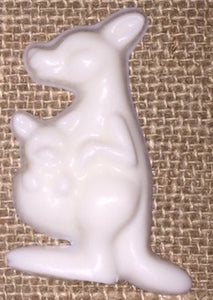 Kangaroo/Joey Shaped Natural Soap - Individually wrapped
Regular price $199.00 Sale
For parents and staff - BEST SELLER! 
Made to order - ships two weeks after the order is placed.
These adorable Natural Soaps shaped like a Kangaroo/Joey will be ready to celebrate kangaroo care year-long.
Parents like getting ready for the nurturing date (kangaroo care) by using this soap on the chest and hands.
Natural Soap and Therapeutic Grade Lavender Essential Oil of Lavender or Calendula.
Size: 3"x 2"x 0.3", weighs 0.5 oz each, Individually wrapped. Made in Texas
Give them, raffle them, use them as prizes or incentives for parents that hold their babies, volunteers, and the staff that facilitates it!
Proceeds help fund events for KC Awareness Day.